About Our Clinic
The Exotic Animal Hospital of Orlando offers regular appointments for the new pet owner. During this initial appointment, we will discuss the regular care, diet and husbandry of each species, their vaccinations (if needed), their need to be sterilized, and answer any other medical questions. In addition, for our clients we offer the following services:
We have regular appointments to address a particular concern/medical condition, and are able to hospitalize patients that require more intensive care and a medical work up.
We perform soft tissue, orthopedic and microsurgical procedures daily, as well as advanced dentistry, radiology, in-house diagnostic tests (blood work, urine analysis, fecal test, bacterial/fungal cultures and cytologies), laser therapy, water testing for aquatic species, and placement of microchips for identification.
We offer boarding for pets when their owners need to leave their homes and want expert care.
We carry food items, supplements, and accessories for small herbivores, birds and reptiles for your convenience.
As a veterinarian who solely practices exotic animal medicine, whether your beloved pet is a rabbit, ferret, bird, snake, or any of the other many species of exotic pets within the Orlando area and adjacent cities, Dr. Díaz's extensive expertise and experience allows him to provide specialized medical care, while exceeding the expectations of his clients. Dr. Díaz and his staff strive to provide clients with an excellent learning experience in order to maximize their skills and knowledge. This focus on client education results in a prolonged quality of life for your pet. Please call us to schedule an appointment today.
Our Staff
Santiago Díaz – Lead Veterinarian / Owner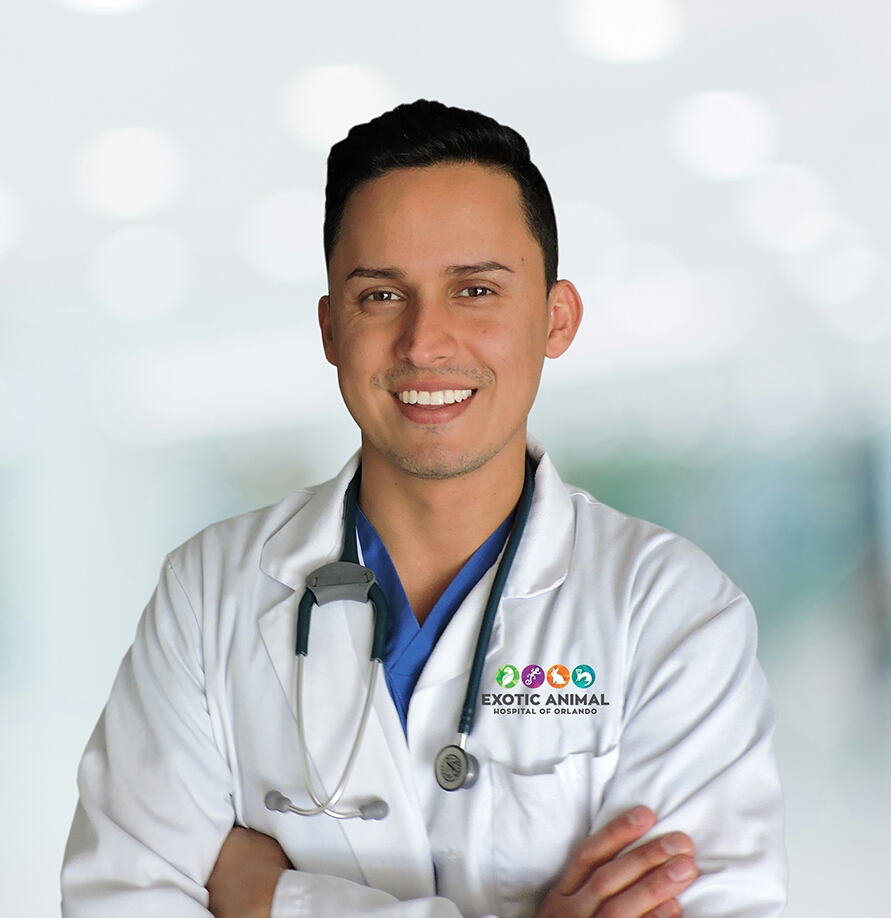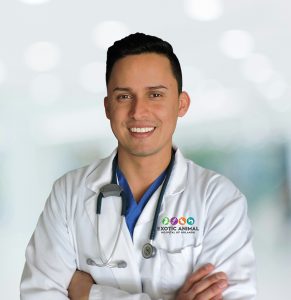 Dr. Díaz is originally from Colombia but came to the United States in 2004 to pursue his dream of becoming an exotic/wildlife veterinarian. In Colombia, he volunteered at two different zoological institutions and a rehabilitation center for wildlife. While in the United States, he attended Florida Atlantic University for his undergraduate studies while working as a veterinary technician at an exotic animal practice.
While in veterinary school at the University of Florida, Dr. Díaz was awarded funding from the Morris Animal Foundation with which, in collaboration with his mentor, he developed an award-winning serology test to detect tuberculosis in captive Asian elephants.
As a veterinarian focused exclusively on avians, exotics, and wildlife, Dr. Díaz has lectured widely, including at a National Veterinary Conference, the Merck Merial Conference, the Morris Animal Foundation Conference, and at various veterinary technician schools throughout Florida.
One project dear to Dr. Díaz's heart is ensuring that up-to-date veterinary medicine literature is available worldwide. In conjunction with a major pet food company, he is translating large numbers of medical literature relating to the care of exotic animals into Spanish in order for veterinarians in Spanish-speaking countries have access to them.
Dr. Díaz is fluent in both English and Spanish and likes to spend his free time with his pets which include a dog, Mateo, a ball python, Matú, a bearded dragon, Khaleesi, and his community fish tank. He also enjoys spending his free time talking to middle and high school students about the veterinary profession and his personal experience with the hope that he will inspire some of them into pursuing their dreams.
Dr. Sanngeeta Macko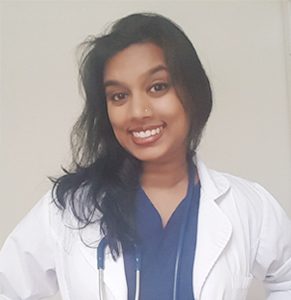 Dr. Sanngeeta Macko was born and raised in Miami, Florida where she attended Florida International University for her undergraduate degree in Biology. She attended the University of Georgia, College of Veterinary Medicine with an emphasis in Zoological Medicine. Before joining our team, Dr. Sanngeeta completed a small animal internship with the Animal Care Centers of Cincinnati. She has a special interest in marine animal medicine and has been involved with many rescue and rehabilitation efforts. In her spare time, Dr. Sanngeeta enjoys reading, writing and spending time with family.
Crystal – Veterinary Technician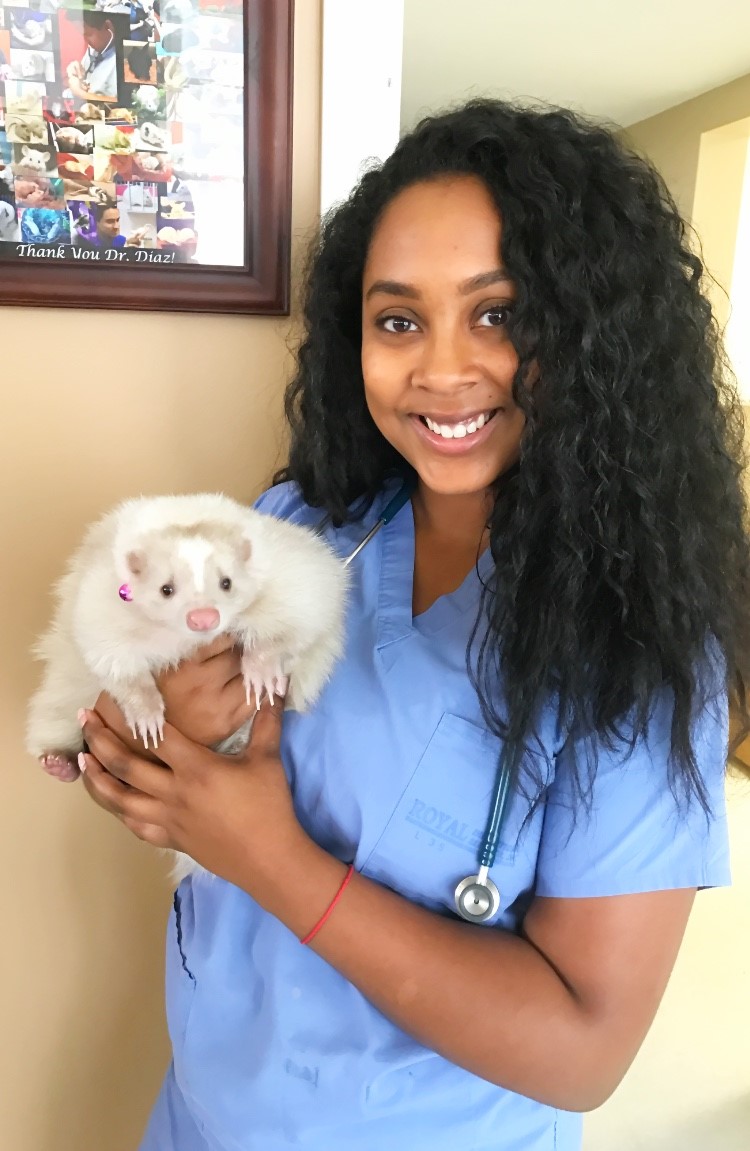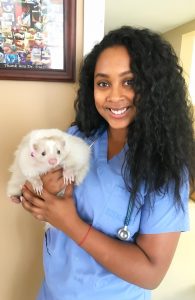 Crystal loves all sorts of furry friends. She is a graduate of the University of Florida, where she studied Anthropology and Criminology, and one day hopes to attend Veterinary school. While she loves participating in surgery and emergency care, she is just as passionate working with clients and their beloved pets. When not working, she can be found doing most anything outdoors.
Patrick – Veterinary Technician, CVT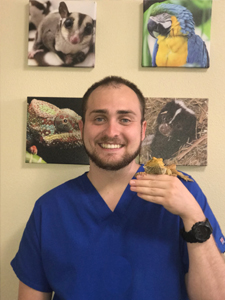 Patrick has lived in Florida for 15 years but was originally from Oregon. He is a recent graduate from Penn Foster's Veterinary Technician program. He has a strong passion for helping animals of all kinds, big and small. If he is not at work, he is home with his two rats, Jack and Daniels, binge-watching Netflix.
Bianca – Veterinary Technician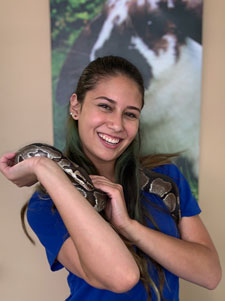 Bianca has lived in Florida her whole life but moved to Orlando 2 years ago from Miami. Before coming to Orlando, she spent time working with elephants and rhinos at large animal rehab facilities. Bianca has 3 dogs, a green cheek conure, and over 10 reptiles at home. On her spare time she spends time with animals at shelters and works with wildlife. One day Bianca wants to work rehabilitating marine animals and working on animal rescues.
Rachelle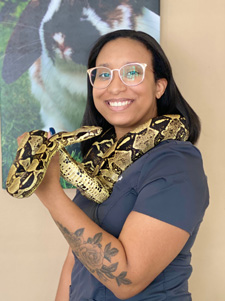 Rachelle was born and raised in South Florida and relocated to Orlando 3 years ago. She graduated from Florida International University with a degree in Sociology and Anthropology, though she finds her true passion to be working with animals. Rachelle has a variety of beloved pets at home, ranging from rodents and reptiles to dogs and cats.
Stephanie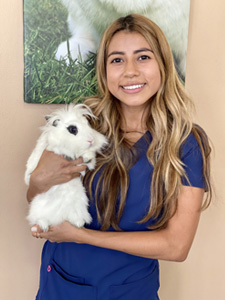 Stephanie is a Florida native. She attended the University of South Florida where she majored in Integrative Animal Biology. When Stephanie isn't at work she enjoys spending time with her rabbits, being outdoors, and going to Disney.